Of course you can call us and speak with a live person!
770-443-8808
M-F 9:00am-6:00pm EST
to verify or place an order you can also email mapwench@gmail.com
If you need a quote on a custom map, just email your specs and we will get back to you with a quote and sample images.

UNITED STATES WALL MAPS
REGIONAL USA SALES & MARKETING WALL MAPS
DIGITAL MAP DOWNLOADS
NEW Digital map images.
Choose from even more
styles and colors of printable maps for professional presentations and reports.
Map images of the United States, Multi-state USA Regions, all 50 States, Continents and World.
High resolution digital files of beautiful color maps for
sales presentations, printing
in a brochure or annual
report, on your website, projector, school or home classroom, as useful home office decor.
ATLANTA, GA AREA LAMINATED MAP FOR EXECUTIVE OFFICE
METROPOLITAN ATLANTA REGION
BUSINESS PLANNING & ZIP CODE MAP
OFFICE WALL MAP SHOWING 30 COUNTIES AROUND ATLANTA, GA AREA
FOR OVER 3 DECADES ATLANTA'S TOP BUSINESS PROFESSIONALS HAVE
IMPLEMENTED OUR PROFESSIONAL ATLANTA REGION WALL MAP!
Atlanta Georgia and surrounding areas showing primary streets, highways, counties in color, cities & towns, exit numbers, points of interest, zip codes and their boundaries, and
a more detailed central "zoomed in" Downtown-Buckhead inset.
Larger map with More area needed?
scroll down further to view detail...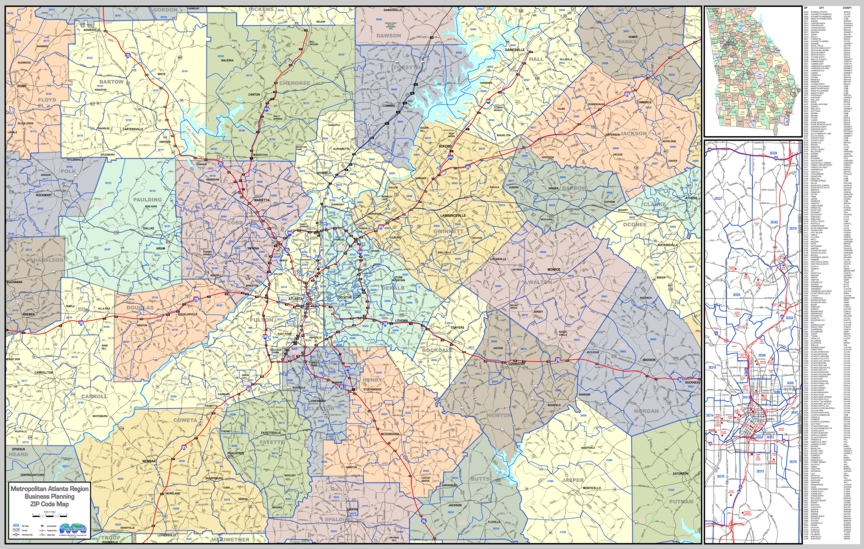 CHECK OUT THE DETAIL...Major streets, highways, exits, ZIP codes, counties, cities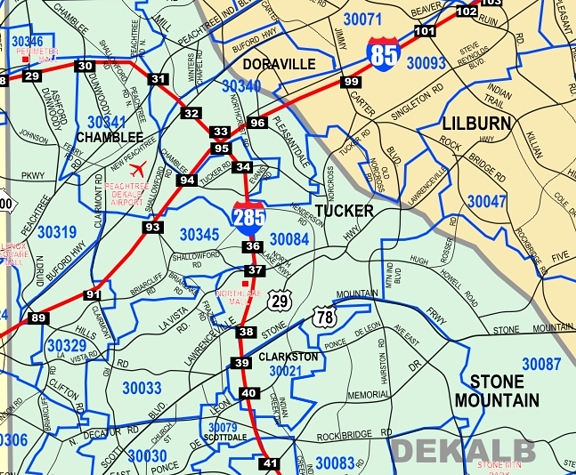 HERE'S SOME ATLANTA & GEORGIA PUBLIC INFORMATION LINKS...
City of Atlanta official web site
http://www.atlantaga.gov/how-do-i
http://www.atlantaga.gov/residents/city-directory
Atlanta Regional Commission web site - http://www.atlantaregional.net/
For transportation and traffic information
http://www.ajc.com/traffic/
http://www.wsbtv.com/traffic
State Dept of Transportation Web site http://www.dot.state.ga.us