If you want to order a map click checkout above, then use only the lower right checkout or continue button on shopping cart pages, which will process your order via secure server, as always.
Tabs along the top of the order in shopping cart are still not linking correctly to our site following an "upgrade" by Miva Merchant, those links result in a page not found error...Just click back, or our logo top left, or enter www.amaps.com
Of course you can call and speak with a live person at
770-443-8808 9-6:00 EST

For custom map questions, please email your specs & contact info to: amaps@amaps.com so we can send you a quote and sample images.
Thank you for your interest!

UNITED STATES
WALL MAPS

REGIONAL SALES MARKET WALL MAPS
DIGITAL MAP images
Digital map images, several styles of printable maps for Professional Business Presentations,
Marketing and Logistics.
Choose from various maps of United States, USA Regions, and all the States.
Map images of the World, Continents, and more...hi-res color maps-.jpg images.
METRO ATLANTA BUSINESS PLANNING AND ZIP CODE MAP
Large Atlanta Area Regional map for professional market planning, sales, service, delivery & routing
Detailed Georgia State Wall Maps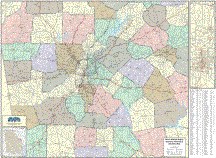 click for details
Expanded Metro Atlanta Region Business Planning Wall Map
with contrasting color counties, major streets and ZIP CODE BOUNDARIES
The Atlanta Region Wall Map utilized by many successful area businesses to organize efficient sales & service territories, routing and delivery for over 15 years!
Medium 54 x 34"...$89.95
Large 72 x 54" $149.95
Business Planning & Zip Code Wall Map Metropolitan Atlanta Region covering more than 40 surrounding counties with federal and state highways, major streets, suburbs, cities / towns, outlining 5 digit ZIP codes, Interstate hwy exit numbers, major landmarks, points of interest and attractions.

GEORGIA STATE COMMERCIAL WALL MAP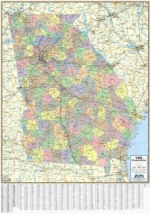 NEW showing additional detail-
NAMED MAJOR STREETS FOR THE ENTIRE STATE
Large Georgia Wall Map for business 54x72"
super-detailed - $189.95
click for MORE INFO

Shows up to date Highways, Counties in contrasting colors, Major Parks, Water Features, Surrounding States, Main Railroad lines, Cities, Towns, New Exit-Numbers, indexed by counties, cities and towns
OR our standard state of Georgia wall map available showing detail for highways, counties, cities, towns but without the detailed named roads
Medium size -click for details 36 X 50" Laminated...$89.95
Large size - click for details 54x72" Laminated...$149.95
STATE ZIP CODE MAPS with 5 digit ZIP code boundary
WALL MAPS PRINTED PER ORDER - 50 STATES
(ALSO AVAILABLE FOR INDIVIDUAL COUNTIES AND CITIES, METRO AREAS, CUSTOM DEFINED AREAS)
Back to A Maps and Graphics home
We can create
Custom Atlanta Region or Multi State Maps
From our own digital mapping
City of Atlanta official web site http://www.ci.atlanta.ga.us/
Atlanta Regional Commission web site http://www.atlantaregional.net/
transportation and traffic information http://www.georgia-navigator.com
State Dept of Transportation Web site http://www.dot.state.ga.us

EXTRA LARGE WALL MAP Metro Atlanta including residential & DETAILED STREETS (zoom image)
EXTENDED WITH MORE SUBURBAN COVERAGE

Includes detailed streets, Points of Interest, Hospitals, Schools, Shopping Malls, Mileage Circles, Land Lots, Subdivisions, Exit Numbers & ZIP Codes.

Covers Metropolitan Atlanta counties - from west to Cobb/Paulding County line, extending through Gwinnett county on the east all the way to include Lawrenceville and Conyers,
From North at top of Fulton County including all of Alpharetta, South including Clayton & Henry counties with all of Jonesboro, Stockbridge.
Full Color, Laminated with wooden hanging rails, BY UNIVERSAL MAP

Copyright A-Maps and Graphics