If you want to order a map click checkout above, then use only the lower right checkout or continue button on shopping cart pages, which will process your order via secure server, as always.
Tabs along the top of the order in shopping cart are still not linking correctly to our site following an "upgrade" by Miva Merchant, those links result in a page not found error...Just click back, or our logo top left, or enter www.amaps.com
Of course you can call and speak with a live person at
770-443-8808 9-6:00 EST

For custom map questions, please email your specs & contact info to: amaps@amaps.com so we can send you a quote and sample images.
Thank you for your interest!

UNITED STATES
WALL MAPS

REGIONAL SALES MARKET WALL MAPS
DIGITAL MAP images
Digital map images, several styles of printable maps for Professional Business Presentations,
Marketing and Logistics.
Choose from various maps of United States, USA Regions, and all the States.
Map images of the World, Continents, and more...hi-res color maps-.jpg images.
GEORGIA STATE LARGE WALL MAP for EXECUTIVE OFFICE
CONTRASTING COLOR COUNTIES, INCREDIBLY DETAILED, WITH INDEX LISTING COUNTY AND CITY NAMES
WITH INTERSTATE, FEDERAL AND STATE HIGHWAYS, EXIT NUMBERS, MAJOR ROADS, CITIES, TOWNS, LAKES, RIVERS, PARKS, COUNTY NAMES BOUNDARIES & MORE, EVEN INCLUDING NAMED MAJOR STREETS and COUNTY ROADS!
Attractive and impressive...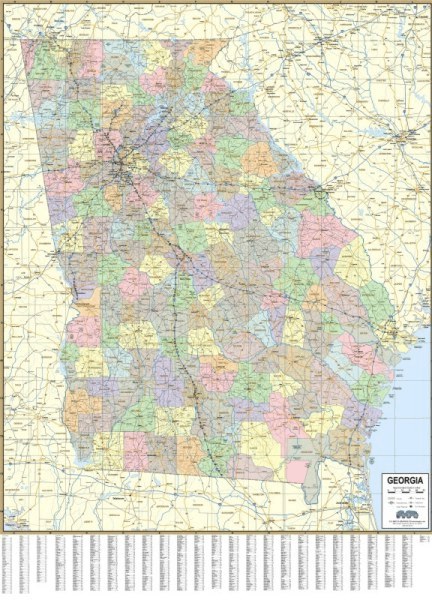 ZOOM IN SECTION- (check the detail)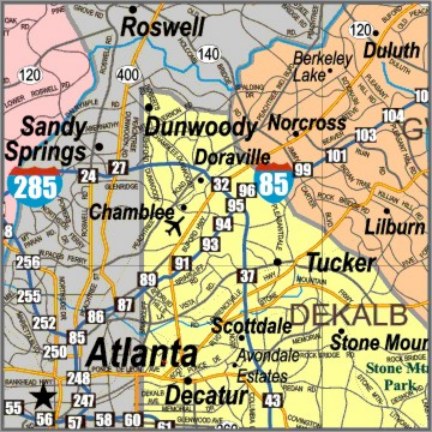 Local publication created by A Maps & Graphics, and quite possibly the most detailed large commercial map ever made for State of Georgia.
We've been publishing business maps in Atlanta area for over for over 25 years.

Ideal for all business mapping applications including marketing, distribution & delivery routes, franchise & sales territories, property location, service accounts & general reference. Includes the new highway exits, all state, federal and interstate highways, small towns, major parks, lakes, rivers, airports and more! Laminated 2 sides, can even be mounted to foam board and framed...(must print 48" wide to mount) even includes the major highways, cities and counties in the surrounding states adjoining areas -showing Greenville/Spartanburg, Columbia, Charlotte, Chattanooga, Jacksonville, Tallahassee, Dothan, Panama City areas.
WE ALSO HAVE A VERSION THAT IS LESS CLUTTERED in the same Large Size showing all the highways but without the smaller detail of county roads and named major streets
AND if you have limited space a SMALLER GEORGIA WALL MAP
ALSO, HERE'S SOME ATLANTA & GEORGIA PUBLIC INFORMATION LINKS...
Atlanta Regional Commission web site http://www.atlantaregional.net/
For transportation and traffic information- http://www.georgia-navigator.com
Phone: 770-443-8808 contact us