Thank you for visiting!
A Maps & Graphics Company-
Source of wall maps for your business...770-443-8808
For custom map inquiries
email your specs & contact info AND please type the word MAP in subject line, (prevents filtering) we will send you a quote and sample images.
Click "add to order" to place a map in your cart which will process orders on a secure server (SSL) as always, however...
on the shopping cart page please only Click checkout at bottom on right side, below your order. Grey row of menu links above the order don't link correctly following an "upgrade" in "Miva Merchant" and result in page not found error...

Of course you can call us! We are always glad to speak with a real live person! 770-443-8808
M-F 9:00am-6:00pm EST
to verify or place an order.
email to: amaps@amaps.com


UNITED STATES
WALL MAPS

REGIONAL USA SALES & MARKETING WALL MAPS
DIGITAL MAP images
Digital map images, several styles of printable maps for Professional Business Presentations,
Marketing and Logistics.
Choose from various maps of United States, USA Regions, and all the States.
Map images of the World, Continents, and more...hi-res color maps-.jpg images.
STATE OF GEORGIA WALL MAP FOR BUSINESS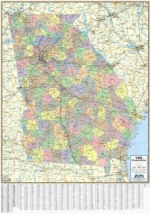 high detail... 54X72" $189.95
NEW GEORGIA WALL MAP!
NAMED MAJOR COUNTY ROADS!

Huge 54 x 72" Laminated...$189.95

Showing Highways, Counties in contrasting colors,
Parks, Water Features, Surrounding States, Majot Railroads,
Cities, Towns, NEW Highway Exit Numbers, Counties / Cities
index at bottom of print.
Smaller size Georgia map Highways but without the major streets
36 X 50" Laminated...$89.95
NEW! WALL MAPS FOR ALABAMA, FLORIDA, NORTH CAROLINA, SOUTH CAROLINA, TENNESSEE

5-Digit Zip Code Wall Maps for all 50 states and Every Metro area city in the USA!
Detailed, up-to-date marketing maps with zip codes are plotted per order from a unique custom GIS programmed database. These attractive and informative full-color wall maps are indexed and laminated. Available in SEVERAL sizes.
36 x 48" - $95
48 x 64" - $195
60 x 80" - $295
72 x 96" - $495
County Town Wall Maps by state... available in White background or Color by county
We can create Custom Maps From our own map database.
Raven Decorative Wall Maps of States
Beautiful topographic coloring of mountains, lighter text for cities and highways Large scale, sizes and state availability varies Standard Paper....$39.00 Laminated...$59.00
Large Commercial Wall Maps -special order
Various publishers, Complete Detail, Roads & Highways, Cities & Towns, Full Color, Indexed and Laminated $149.50 - $229.50
Map tacks/Pins, foam board mounting, laminating, custom framing
Large Maps Mounted on foam board and framed must be shipped by truck
Business & Marketing Atlases Available for United States

Copyright A-Maps and Graphics
2789 Veterans Memorial Hwy
Austell, GA 30168

Phone:770-443-8808 contact us