If you want to order a map click checkout above, then use only the lower right checkout or continue button on shopping cart pages, which will process your order via secure server, as always.
Tabs along the top of the order in shopping cart are still not linking correctly to our site following an "upgrade" by Miva Merchant, those links result in a page not found error...Just click back, or our logo top left, or enter www.amaps.com
Of course you can call and speak with a live person at
770-443-8808 9-6:00 EST

For custom map questions, please email your specs & contact info to: amaps@amaps.com so we can send you a quote and sample images.
Thank you for your interest!

UNITED STATES
WALL MAPS

REGIONAL SALES MARKET WALL MAPS
DIGITAL MAP images
Digital map images, several styles of printable maps for Professional Business Presentations,
Marketing and Logistics.
Choose from various maps of United States, USA Regions, and all the States.
Map images of the World, Continents, and more...hi-res color maps-.jpg images.
World Wall Maps

Large and Medium sized Maps by
National Geographic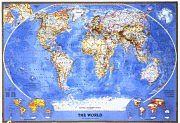 political information, city detail in Robinson Projection format, 3 color options-country outline on a pastel/white shaded relief background, NEW decorator in contrasting deeper colors, or antique color beige background, always updated...in 3 sizes 43.5 x 30.5 flat paper.....16.95
Huge 68.5 x 47.5 laminated......$79.95
Mural wall size in 3 sections as wallpaper 110x76".....$119.95
if you need a wall map for continent or region...
CONTINENTS & COUNTRIES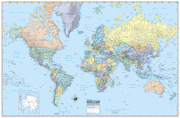 New Large World Wall Map by American Map Corp 64 x 42" $49.95Up to date with political contrasting colors, with detailed cities, time zones, centered on Europe. Waterproof & tear- resistant synthetic paper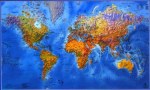 Gabelli Wall Maps
Montiscolour and Country Color Unique interesting coloring & cartography from French publisher, in Political or Topographic.
Individual Continents also available
| | |
| --- | --- |
| Large wall map is "60x 37" paper......... | $39.95 |
| Laminated........... | $69.95 |
| Smaller Wall maps 40 x 29"...... | $19.95 |
| Laminated....... | $29.95 |
Colored Wall Maps
New by Rand McNally bright colors on a light beige parchment colored oceans background has matching US map


Michelin Wall Map of the World
54x39" brightly colored countries, shaded topographic, city detail, with country flags, laminated $39.95 Has matching USA wall map



Collectors Series by Hammond
in Pastel colors by Country, Centered on US, Political with Cities, Flags of Countries, and shaded relief. Also available in this series matching wall map of the United States and laminated wall maps of Continents & Regions of the World
50x38" Paper...$7.95 Laminated...$29.95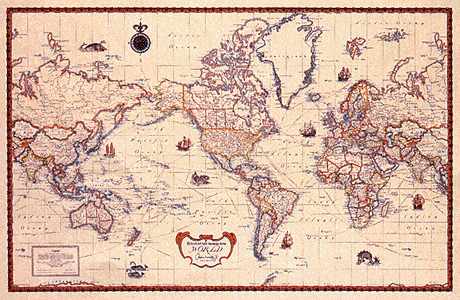 "Antique Style World Map"
up to date, but featuring the style, coloring and parchment-like paper of an antique map, beautiful & practical. 50x38" paper............$16.95

click**ABOUT OUR FRAMING SERVICES**


Peter's Projection of the World by Friendship Press
A "world friendly" fair and accurate representation of Peoples, Countries and Continents on a flat map, Color by continent, showing political boundaries, cities, contrasting color by continent.
42 x 32" paper...$19.95 42 x 32" laminated...$39.95

The World of Wild Animals by Gabelli
Topographic colored Wall map beautifully illustrated with Wild Animals relative to their habitat locations, shows almost 200 animals.
40 x 27" Paper.........$19.95 Laminated...........$29.95

"One World" beautiful poster showing 3-global views of Earth
on one large print by Raven Maps "63x35"
Physical features & major cities shown, no Countries.
Paper....$50.00 Laminated......$85.00


Spaceshots Posters - Composite Satellite images -

Earth from Space natural color, 36 x 24"

Earth at Night with city lights, Brilliant Earth 35 x 20"

Also Available Satellite maps for Europe, Mexico, Australia, British Isles, Spain, France, Israel, North and South America, major US metro areas and more...
Most are approximately 24x36"


WORLD ATLASES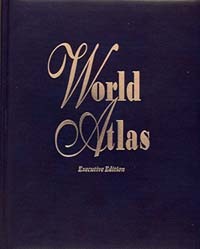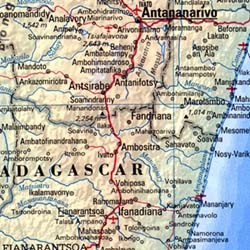 Leather bound Executive edition World Atlas $100.00
Hammond's custom digital cartography produces beautiful detailed maps, excellent clarity, with maps in varying scales. A perfect coffee-table book, and gift - Give someone the world!
Hammond Atlas of the World New! revised Dec. 2002 11 x 14" 312 pages including 160 area maps and 70 inset detail maps. over 100,000 index entries, Handsome dark charcoal gray Leather-bound with silver gilded edge pages and a red ribbon marker.
---
Time Zones of the World
The most interesting timepiece you will ever see
The Geochron World Time Indicator - analog electronic clock-map...
The Geochron demonstrates precisely where the sun is rising and setting every minute of the day. It's face is a Mercator map of the world, illuminated to simulate the suns light as it is cast on the planet. The map scrolls left to right at a speed of 1" per hour - complete in 24 hours. The light pattern changes slightly day to day to progress through the seasons. The time of day (or night) is indicated on the time scale. Calibrations are at 5 minute intervals and more precise calculations can be made on an optional minute dial.
Back to A-Maps and Graphics